Description
The Multifunction Portable Vegetable Slicer Blender is a product that can be used for slicing and blending vegetables. The blender has blades on both sides of the lid, making it easy to slice your favorite vegetables like cucumbers, tomatoes, or carrots. It also comes with a hand-held stick that you can use to blend up those veggies into delicious dips or sauces in seconds!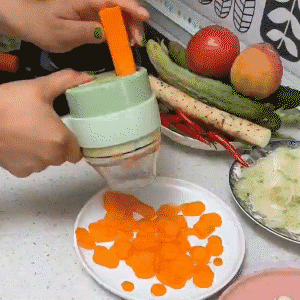 It is wireless so you don't need to worry about a cable running around.
It's perfect for chopping and slicing vegetables quickly, without the need for an additional appliance.
This product can slice, grate, and blend vegetables with just a few simple steps. It is easy to use and will be your go-to kitchen appliance.
Features

Filling Hole: It is also convenient to add one, avoiding the tedious steps of opening and screwing the cap, and the long ingredients such as pepper, cowpea, yam, etc. can be directly inserted;

Directly Put Into the Pot

:

 

shot-cut slicing, no need for a container to cook in seconds, the garlic slices and chili rings are even and beautiful;

Comfortable Grip

:

 

Breaking the dangling click mode of the traditional electric garlic paste, the ergonomic design does not tire your hands;

One-key Cleaning

:

 

The whole machine is rinsed, the feeding hole is added with detergent to start with one key, and it can be washed with running water by stirring for 5 seconds.
Specifications
Material: ABS+PP+PC+ stainless steel

Size: About 20.5*9.5*8.0 (CM)

Motor Power: 40W