Description
Read more clearly and more easily
Professional Magnifying Glass
Professional vision aids with ultra-HD K9 optical lenses that support up to 6x magnification, perfect for reading small text or viewing photo details.


Light Up While You Magnify
Equipped with three LED lights for easy use in low light conditions. It can be used as a night light without glare. After turning on the switch, press the edge of the magnifying glass and the LED lights up.

Easy To Use
The LED Magnifier only requires one hand to freely and easily move across a page, photo, or other items. Each set comes with a premium storage pouch for you to store your reading magnifier when not in use and a cleaning cloth to wipe out any dirt before use.

Carrying Case Included
Includes a convenient carrying case and cleaning cloth to protect and store your LED reading magnifier.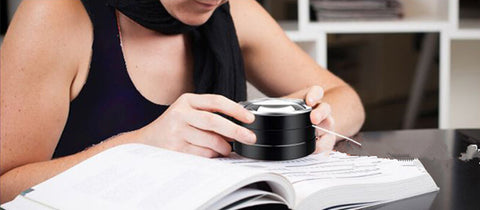 ✔️Specification:

(1)Material: ABS environmental protection plastic, optical glass lens
(2)Size: 92 x 53 mm
(3)Weight: 198g
(4)Amplification Factor:6x
📦Package Include:

LED Reading Magnifier * 1 PCS
Carrying Case * 1 PCS
Cleaning Cloth * 1 PCS