Description
WORKS ON MOST SURFACES
Whether used as a wet or dry mop, these microfiber wall mops work on wood, laminate, tile, vinyl, and most other types of walls, floors, ceilings, and baseboards.
SOFT & FLEXIBLE CLEANING SCRAPE
Wear-resistant & flexible scrape.

Insert the scrape to remove the water or water stains.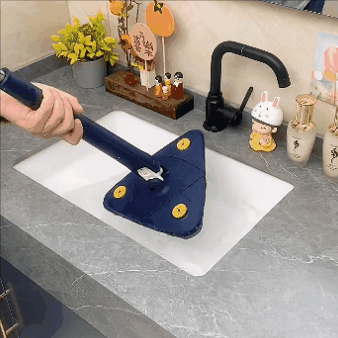 360-DEGREE ROTATING MOP HEAD 
360-degree rotating mop head makes it easy to turn around and clean effortlessly, and easy to reach corners.
STRONG WATER ABSORPTION & EASY CLEAN
Strong water absorption makes it easy to remove water stains.
After finishing cleaning, it is okay to hand wash or machine wash the mops.
SCREW THE POLES TIGHTLY
Easy to put the poles together.
Note: Avoid poles losing, screw the poles tightly before cleaning.
LONG HANDLE FOR WALL & CEILING
Easy to reach wall and ceiling.
Cleaning high or low without a ladder or bending over.