Description
YOUR PET'S FAVORITE HANGOUT SPOT
What pet doesn't want to be treated like a diva. Relaxing back in the lap of luxury, not a care in the world. The Teddy Lounge will take them there.
Heck, if they made them in a bigger size, I'd buy one for myself. Perfect for kicking back on the weekend.

Its plush and soft fabric offers maximum comfort to your pet, while its cute design makes it fun to look at too.

In addition, the teddy bear's head and chest provide additional support so that your pet can comfortably lie down in any position.
Even better, it comes in different sizes and colors, giving you the option to choose the perfect fit for your pet!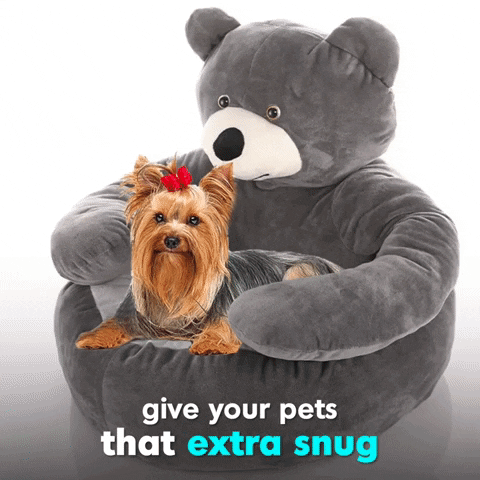 Key Benefits
Plush fabric - Made with PP cotton, the Teddy Lounge offers premium comfort for your furry friend.
Not only that, but its fabric is also breathable to ensure your pet stays cozy and warm all day or night. 

Perfect size - Whether you're raising a dog, cat, or whatever furry pet you have, our Teddy Lounge has the perfect size for your pet to lay on.
Also, its compact size makes it easy to position in any part of your home.

Ergonomic design - Boasting an ergonomic design, this Teddy Lounge allows your pet to lie down and sleep in any position.
Aside from that, it has a cute backrest that provides additional support to their body when they're resting. 

Stable and washable - To keep the Teddy Lounge looking and smelling its best, you can easily clean it in the washing machine or hand wash it.
In addition, it's also equipped with a non-slip pad, which adds extra stability and prevents it from moving while they're on top.
Which Size? - The small bed is suitable for pets 6kg (13lbs) and under while the bigger bed is suitable for larger pets up to 10kg (22lbs). If you have a larger pet, then there is a zipper at the back and you can add extra padding to accommodate the extra weight .

Shipping - We currently have FREE Worldwide Standard Shipping. The product ships within 1-3 days, and we will send you a tracking number when that happens. You can come back to our site and click the Track Order button on the top of the page to see where the package is. Currently this product is getting to the customers within 2 to 3 weeks.
This sale is on for a limited time only, so grab one while you can.